Time to shop for a new waterproof item? Then look NO further!!!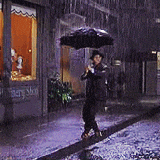 September is in full flow, the leaves are beginning to turn and we can ALMOST smell the pumpkin spiced lattes in the air.
So...we make that time to start work on your waterproofing options for the approaching season. To save you some time, the team have done the groundwork for you and present a range of some of the best statement umbrellas on the market for autumn/winter 2020. Get yourself kitted out and looking super stylish with our listings below.
Creepy Vintage Doll Head Umbrella
Let's start with a personal favourite. Yes, you can be sure to cause a stir with this beauty for £35.58. Let's be honest, it's frankly utterly terrifying BUT surely it takes your chances of umbrella theft down by approx. 80% (Etsy- Raw Bone Studio)
Handsfree Umbrella Hat
Looking for something unique for your morning commute? Then look no further than the waterproof, hands-free, umbrella rain hat! Further words escape me right now except to tell you that this can be yours for the bargain price of £8.50! Amazon (Juvale).
Scary bulldog Head umbrella
Scary baby heads not your thing? Why not try scary bulldog heads floating through a summery sky instead?! Also available from Etsy and a great deterrent to passing cats or overflying birds.
£31.63. Boasts to have an auto open close system which you can operate with one hand in one second (apparently).
Two-pole Couple Umbrella

Romantic eh?! And, nope, we can't see any logistical issues with this Honana Fancytime Two-pole Couple Umbrella at all. Perfect for two people who want to take a stroll in the rain and walk in identical directions the entire time. Interesting bonus feature- the material is listed as collision resistant, make of that what you will. All yours for £24.99 at banggood
Handsfree Umbrella
And I quote "Allows you to eat, drink and dance and all other things without having to balance a brolly handle". £15.99 Amazon.
Gnomes
If you like your fashion items to come complete with little-hat-wearing-men-with-beards, then look no further. Described as featuring "photo-realistic gnomes" ,I think we can all agree that nobody wants an umbrella with non-photo realistic gnomes so this is a worthy purchase. £35 (Etsy)
Pink metallic dome
This pink metallic dome umbrella is indeed very shiny but it does raise some interesting health and safety visibility questions. Yes, it shelters you from the autumn rain ,BUT surely it's the equivalent of walking along the street wearing a giant bucket on your head and hoping that the cars stop before they see you.
£12.99 and apparently great for parties. Yes ,parties that are outside in the rain where you don't want to see anyone. Nailed it. (Susino)
Blue sky Umbrella
If denial is your style then you should grab one of the The Sky collapsible umbrellas from MoMA. The description says that the umbrella provides for a blue sky, even during bad weather (aw!).
Moma £44 plus £8 shipping!!!!!!! WHO PAYS £52 for an umbrella?!!!!
Colour change Rainbow Umbrella
Turn your grey sky MULTI-COLOURED with your very own rainbow colour change stick umbrella. 18.95 from Amazon and I would share the reviews with you but they are all in French (I only took Spanish at GCSE) but let's be honest, this idea is genius and everyone who owns one will be praying for more rain.
Transparent pet brolly
Got a pet? Then have we got the product for you!! Yes, this Transparent Pet Umbrella can be all yours for only £12.89 from Ebay. A sure way to take the dignity and street cred away from any canine within the local dog community.
LED Umbrella
Feeling fancy? Looking for a weekend umbrella? Then try the Fashion Modern Romantic Blue Creative Light Up Umbrella WITH flashing LED lights!
I do have to share a small criticism that all the lights are on the outside so you don't actually get to enjoy them ,but IT STILL HAS IN BUIT PARTY LIGHTS!!!! £19 from Wish
Yellow Duck UFO Raincoat Children Hooded Poncho
This may be one of the very best things I've ever seen and what's more, it come in ages 2-15 (yes 15!!!). The perfect present for a friend or a teenage relative that you want to giggle at. £4.30 from Amazon)