#Top5 Winter hot chocolates!!!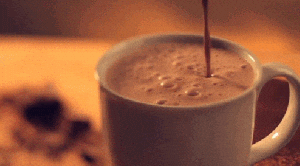 We're full on in winter, and writing from Headstrong Central here all I can see out of the window is MIST! And, although lockdown is over unless you are lucky enough to live in Cornwall or on an island, we're stuck meeting outdoors for anything social... so how do we counteract the gloom, the cold, and keep feeling in our fingertips?
Sounds like a GOLDEN OPPORTUNITY for the consuming of HOT CHOCOLATE!!
But, we like to shake things up here a little, and pandemic life can get a bit monotonous, so why not try some of our interesting variations on this theme! Here are our #Top5 favourites for you to try … along with some pro's and con's in each case because, well, everyone's head is full right now, so we just like to help you with these tricky decisions :)


Before we start - a word on milk frothing!!!
Yes, this may sound a bit extra, but seriously, you won't regret this - if you LOVE hot chocolate, this year of all years it is the year to think about FROTHING YOUR MILK!!!
This moment of frothing frolicking fun really does raise your drink to the next level, NOT TO MENTION offering a way to sprinkle additional CHOCOLATE YUMMINESS on the top and creating something you can SPOON IN!! The perfect snuggly site for marshmallows as well - you've got to give this a go. And if you get really bored this year you can even start to practice your milk froth art!!
The BEST thing is - it doesn't need super expensive equipment. That's right, forget those fancy jugs and massive coffee machines with the milk spout no one ever knows how to clean properly - google yourself a little hand held frother and it shouldn't set you back much more than a tenner. Or its the PERFECT addition to your Christmas list :)
To make the perfect froth ... heat your milk to boiling point, watching it doesn't overflow especially if you are microwaving, because that;'s just plain annoying. For the best froth skimmed actually works best, but whatever milk you have should do - including non dairy - we love frothed oat milk in hot chocolate.
Hold the end of the frothing 'wand' in the top of the milk and whizz away. Remember you want to beat in air so hold it at a 45 degree angle and tilt the container a bit to get it really frothy - you might find a taller jug or beaker works better than a mug too. Then fill your mug half full with warm milk or hot water or whatever you're using to make the drink, stir and finally spoon the thicker froth onto the top. And ENJOY!!
Now go on to select your beverage ... ⏩
#1Fairtrade
Ok, so this is traditional, basic and RELATIVELY low maintenance, though it does require boiling milk, unless you use one of the faitrade powders that you can just add boiling water to. Microwave your milk, stir in the powder and you're good to go!!
Pros: Mmmm we like this one. Though of course other faitrade options are available. But we think this is one of the best - and it's also our top tip if you're prone to the occasional moment of eating the powder from the jar with a spoon, or sprinkled over your milk froth.
What? Doesn't EVERYONE do that?!
Cons: Um … well there's that thing when the milk boils over in the microwave and cleaning it is a real pain. So keep an eye on it?!
#2Healthy ...
Well, we had to put it in. If you are really stacking up the drinks it's worth swapping in one or two of these if only to limit your sugar highs.
What it involves: Not a lot. Tear open your little sachet, boil kettle, stir water into powder.
Pro's: LOTS of flavour options, low maintenance, good for emergency chocolate requirements, and if you really are drinking a lot of hot choc this one is a healthy option
Cons: well, taste. Opinions vary but it's not gonna compete with some of the others on this list. To be honest we'd rather just have one REALLY good hot choc. We're not sure this counts. But some people love 'em...
#3L'Ancienne
A fancy homemade one for rough days, slow days or days when you just need to spoon in chocolate syrup and an excuse to do that. Melt 4-6 pieces of your favourite chocolate - we did it in the microwave but take it slow, its VERY annoying when you over heat the choc and it burns :( So heat it 30 secs at a time and if your micro is one of those zapper high power ones use a lower setting.
Then stir in a teaspoon of golden syrup (mmm more spoon licking). And if you REALLY want to treat yourself a splash of double cream :)
Add this, to taste, to hot milk. Fancy places serve the chocolate syrup in one little jug and some steamy frothy milk in another - go wild.
Pros: mmmmmmmmm. Nuff said.
Cons: Definitely high on the effort scale. And opportunities for microwave disasters.
NB there is a cheats version of this where you basically just heat up milk then stir in chocolate - either chopped into little chunks or in the form of chocolate drops/discs. Give it a go - and marvel at just how much chocolate you can melt in milk…
#4WinterSpice 😋
Mmmmm one for festive moments, or times you need some winter cheer.
Select your preferred hot chocolate powder (or hey go high level and make the a l'ancienne one) and stir into a little hot milk or boiled water to make a paste. Add about a dessert spoon ginger syrup - you can get the coffee syrups from the supermarket, or use the syrup that comes with ginger stem in syrup, OR just use golden syrup and add a pinch of ground ginger - but go easy on the spice, that stuff is strong! - and about half a teaspoon of mixed spice or cinnamon. Basically whatever you can find in the cupboard ;)
Top up with milk - ideally frothy!
And finish with a sprinkle of chocolate powder and if you fancy it, even a shake of cinnamon.
Pros: This drink soothes the soul.
Also works as variations:
MOCHA - add a shot of coffee and/or spoon of instant coffee with the chocolate paste, adding a little hot water to dissolve.
MINT - add a few drops (to taste) of mint essence with the chocolate paste
CARAMEL - add caramel syrup with the chocolate paste
Cons: We honestly can't think of any.

#5WhiteChoc
Think snowy days, pure white untouched bliss. And a sugar hit like no other, particularly if you add white marshmallows!
Warm your milk in a pan, or the microwave. Then stir in chopped white chocolate, or white chocolate drops/buttons until melted. You'll need to do this to taste ... we think a couple of tablespoons per mug is about right but hey, it depends how big your mug is ;)
Add a little vanilla essence or syrup, and top with milk froth, marshmallows, a little shake of vanilla sugar ... whatever takes your fancy!
Pros: Bit of a change from the usual hot chocolates.
Looks pretty :)
Cons: Um well you need a sweet tooth ...
What's your favourite hot chocolate?